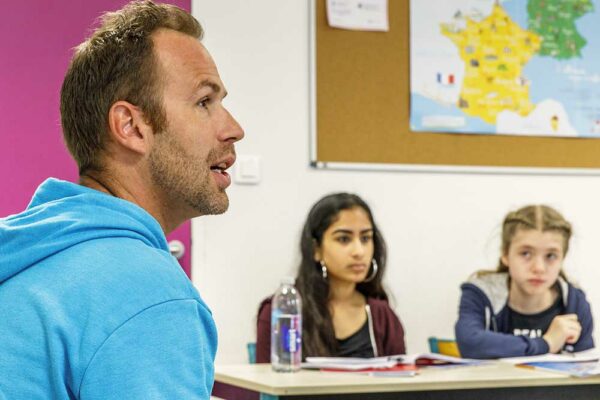 Leaving Certificate or Transition Year Preparation
20 group lessons • 15H (Standard classes)
6 group lessons • 4H30 (preparation course)
The course content is perfectly suited to the specifics of Leaving Certificate exams. You will study the methodology, vocabulary and themes specific to these exams; you will develop the relevant skills that will allow you to be ready on the day of the exam.
Before your arrival, you fill out a form to tell your teachers about your expectations and your specific needs. Additional one-to-one lessons can be added upon request.
SCHEDULE
PRICES
ACCOMMODATION
INFO
STANDARD COURSE
MONDAY
1.30 PM-3.30 PM
FROM TUESDAY TO FRIDAY
9.00 AM-12.30 PM (break from 10.45 AM to 11.00 AM)
PREPARATION COURSE
TUESDAY AND THURSDAY
1.30 PM-3.50 PM (break from 2.50 PM to 2.55 PM)
PRICES
For 1 week: 330€
For 2 weeks: 660€
For 3 weeks: 990€
PRICES PER WEEK
HOMESTAY "Live in a French home"
Self-Catering : 130€/week
Bed & Breakfast : 150€/week
Half-Board : 200€/week
STUDENT RESIDENCE "Join the community"
Fully equipped single studio : 210€/week
APART-HOTEL CITY CENTRE "Confort and freedom"
Apart-Hotel Studio (1-2 person) 2*

< 4 weeks: 380€/week
5+ weeks: 310€/week
Apart-Hotel Studio (1-2 person) 3*

< 4 weeks: 550€/week
5+ weeks: 470€/week
Apart-Hotel Studio (1-2 person) 4*

< 4 weeks: 580€/week
5+ weeks: 520€/week
Apart-Hotel Suite (1-4 person) 3*

< 4 weeks: 700€/week
5+ weeks: 570€/week
Apart-Hotel Suite (1-4 person) 4*

< 4 weeks: 740€/week
5+ weeks: 660€/week
FLAT-SHARING "Share an experience"
Shared Apartment with single bedroom: 150€/week
HOTEL "Peace of mind"
Hotel 2*

Low season: 50€/night
Hight season: 80€/night
Minimum age: 16
NB1: if you are only interested in residence, don't hesitate to contact us to check their availibility first before booking online.
NB2: Full beginners are only accepted on the first Monday of each month : 1 January; 4 February, 4 March, 1 April, 6 May, 3 June, 1 July, 5 August, 2 September, 7 October, 4 November, 2 December 2019.
NB3: LSF reserves the right to modify the schedule of lessons in summer and at other peak times (Standard course mornings and afternoons).
---
Only logged in customers who have purchased this product may leave a review.