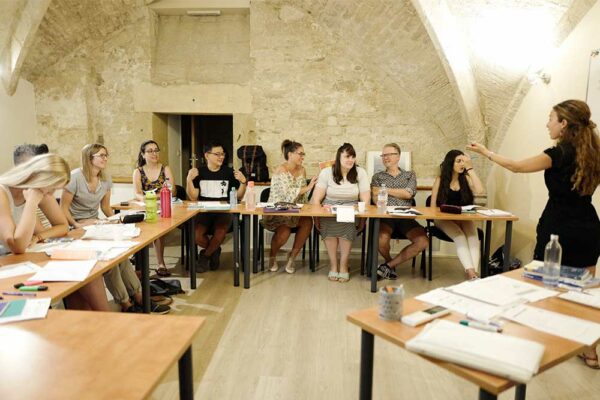 Take your oral skills to the next level
20 group lessons • 15H (Standard classes)
+
6 group lessons • 4H30 (Intensive course)
The two afternoons of intensive French courses are aimed at perfecting your oral skills in French (oral comprehension, production and interaction). All of our intensive French courses are designed using interactive digital screens and take place in classrooms equipped with these screens, which means your lessons will be modern, dynamic, lively and, of course, interactive.
All the documents used are taken from French-speaking media (videos, radio programmes, reports) and stimulate interaction, discussion and debate. There is no grammar taught in this course, but you will reuse and improve the grammatical tools developed in the Standard course.
SCHEDULE
PRICES
ACCOMMODATION
INFO
STANDARD CLASSES
MONDAY:
1.30 PM-3.30 PM
FROM TUESDAY TO FRIDAY:
9.00 AM-12.30 PM (break from 10.45 AM-11.00 AM)
INTENSIVE FRENCH COURSES
TUESDAY AND THURSDAY:
1.30 PM-3.50 PM (break from 2.50 PM-2.55 PM)
PRICES PER WEEK
From 1 to 3 weeks: 300€/week
From 4 to 6 weeks: 290€/week
From 7 to 11 weeks: 270€/week
From 12 to 19 weeks: 250€/week
More than 20 weeks: 230€/week
PRICES PER WEEK
HOMESTAY "Live in a French home"
Self-Catering : 130€/week
Bed & Breakfast : 150€/week
Half-Board : 200€/week
STUDENT RESIDENCE "Join the community"
Fully equipped single studio : 210€/week
APART-HOTEL CITY CENTRE "Confort and freedom"
Apart-Hotel Studio (1-2 person) 2*

< 4 weeks: 380€/week
5+ weeks: 310€/week
Apart-Hotel Studio (1-2 person) 3*

< 4 weeks: 550€/week
5+ weeks: 470€/week
Apart-Hotel Studio (1-2 person) 4*

< 4 weeks: 580€/week
5+ weeks: 520€/week
Apart-Hotel Suite (1-4 person) 3*

< 4 weeks: 700€/week
5+ weeks: 570€/week
Apart-Hotel Suite (1-4 person) 4*

< 4 weeks: 740€/week
5+ weeks: 660€/week
FLAT-SHARING "Share an experience"
Shared Apartment with single bedroom: 150€/week
HOTEL "Peace of mind"
Hotel 2*

Low season: 50€/night
Hight season: 80€/night
Minimum age: 16
NB1: if you are only interested in residence, don't hesitate to contact us to check their availibility first before booking online.
NB2: Full beginners are only accepted on the first Monday of each month : 1 January; 4 February, 4 March, 1 April, 6 May, 3 June, 1 July, 5 August, 2 September, 7 October, 4 November, 2 December 2019.
NB3: LSF reserves the right to modify the schedule of lessons in summer and at other peak times (Standard course mornings and afternoons).
---
Only logged in customers who have purchased this product may leave a review.