At LSF Montpellier, we attach great importance to the quality of teaching. Since 2015 our teaching team has been developing a platform for distance learning of French. The primary goal is to give our students access to quality content, whether they are in Montpellier for immersion courses or at home for distance learning courses! Our e-learning platform thus enables students from all over the world to learn French or to deepen their knowledge by working independently on different skills: grammar exercises and lessons, vocabulary, conjugation, written production, written and oral comprehension, phonetics.
Our e-Learning platform in a nutshell :
More than 400 training modules and 5,000 exercises: each training module includes : The objectives of the week, course videos, lessons, self-corrective exercises (grammar, conjugation, vocabulary, phonetics), listening comprehension activities, written comprehension activities and written production activities.
Permanent and personalised follow-up by our teachers: after taking our online test, which includes some exercises (conjugation, grammar, language structure) and a part in which you are invited to introduce yourself and explain your motivations, you will receive a personalised programme that corresponds perfectly to your needs. LSF Montpellier's pedagogical team answers all your questions on the platform and corrects all the written contributions published: the aim is to provide you with pedagogical assistance and continuous follow-up and to enable you to progress by offering you personalised correction and advice.
More than 7,000 users since its launch
The demo version in a few words: trying it is adopting it!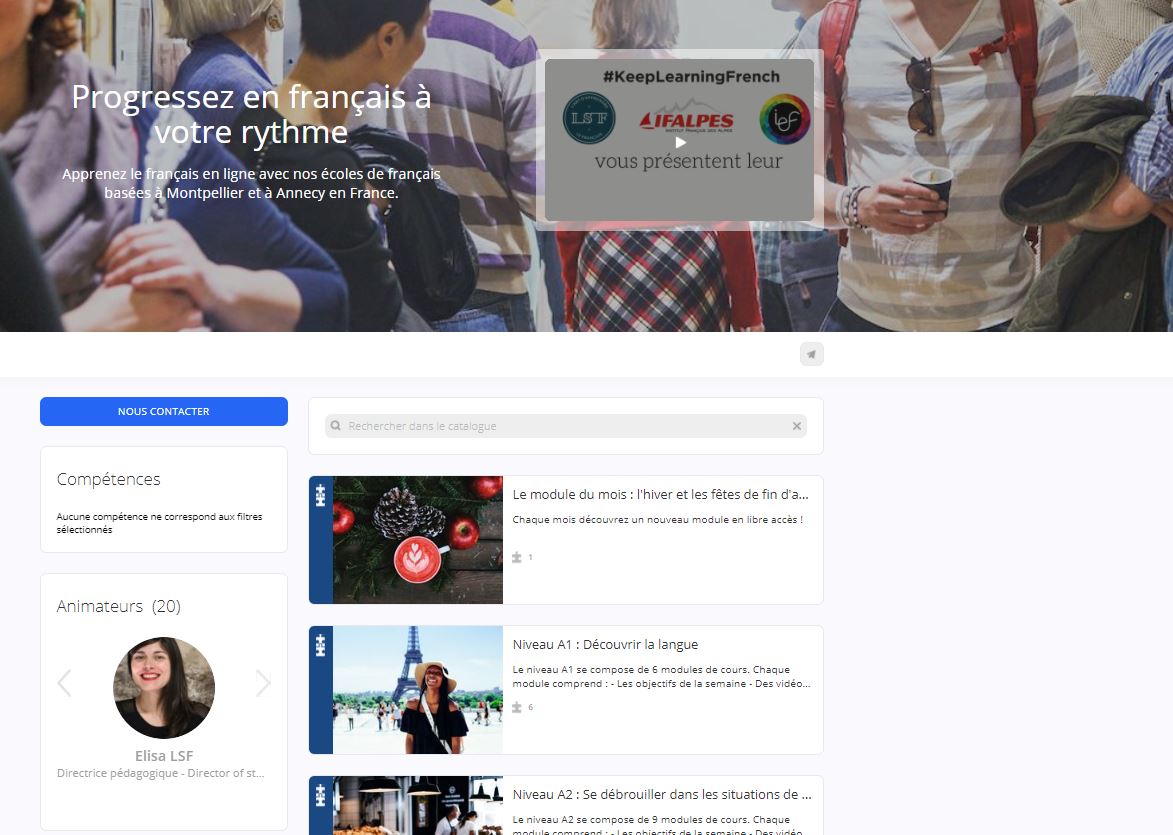 In order to allow you to discover our platform before committing yourself, and to give you an overview of it, we have decided to develop a free demo version that you can use for an unlimited period of time. We know that there is nothing better than testing before committing. Please note that the demo version contains only 5% of what you will find in our full access platform. By registering to our demo version you will nevertheless have access to:
90 exercises
8 videos
13 lessons
1 bonus module that changes every month!
Our demo version is based on levels from A1 to C2. In order to enable you to fully test these levels, we give you access to the first module of each level. 
A1: Discovering the language: 6 course modules

A2: Coping with everyday life situations: 9 Course Modules

B1 : Dealing with everyday life situations: 9 course modules

B2: Being independent in daily and professional life: 12 course modules

C1-C2: Being autonomous in everyday and professional life: 12 course modules
Bonus! A module that varies every month

How does it work? Where to register?
It's very simple! It's right here! 
Fill in the form and you will receive all the information you need to test our e-Learning platform free of charge.
Test the demo and discover how our platform works
If you like it, take the unlimited access to have access to all our online trainings!
The paid version includes these same training courses and much more! Come and discover the paid version on video by clicking here!   
We hope you have enjoyed this article! Do not hesitate to ask us your questions in the comments.