Or how to start learning French online and continue in immersion. Here is an idea! In an exceptional context, new solutions!
You need French : for your studies, for your professional career or because you want to settle in France. In any case, they are all good reasons to learn French.
You are hampered in achieving your goals because of the Covid19 crisis and you are falling behind. You need to make progress despite the fact that it is complicated to come and study in immersion.
We have worked on solutions that will allow you to start or continue your project. The idea is that you start your French courses from a distance, by joining one of our many classes, and when the situation allows it, that you complete / finalize your project by coming to France, in immersion. Our hybrid offers allow you to do just this : to start your project online and refine it as the situation evolves.
"Innovation at the service of pedagogy".
For many years, LSF has distinguished itself by the quality of its teaching of French as a Foreign Language, but also and above all, for its sense of innovation in terms of pedagogy. Our passion for teaching the French language and our desire to share it takes us off the "traditional" paths. Our pedagogical team works every day in order to guarantee quality teaching adapted to the needs of all and to the context, whatever it may be. It is with this in mind that since 2017, we have been developing our own e-learning platform in order to offer more advanced and innovative French language teaching.
Our e-Learning platform in a few figures:
More than 400 modules
More than 5,000 exercises
And nearly 7,000 users since its launch (as of November 10th, 2020)
"Our pedagogical strength, a systematic use of the e-Learning platform in both our immersion and online classes."
With many years of experience, we are now convinced that immersion coupled with e-learning is a relevant, sustainable and effective solution. The figures speak for themselves, today our French distance learning platform has more than 7,000 users since its creation (as of November 10th, 2020).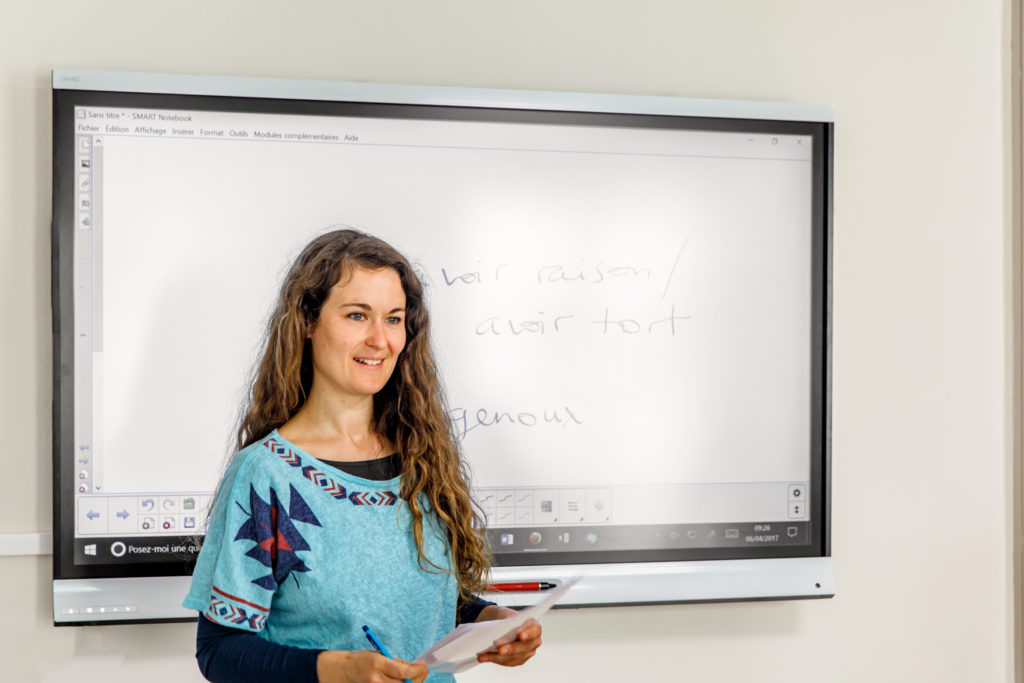 We are proud of our results but always eager to offer our students and future students innovative solutions that fit their daily life. The current context and future trends push us to always go further. This is why we have been working for several months on French learning formulas based on two key principles: FLEXIBILITY and FREEDOM. The result of this work is the creation of hybrid offers that we are presenting to you today.
"Hybrid offers to offer flexibility in learning French. But what is it all about?"
It is a unique and original formula that combines immersion and distance learning. A formula that gives you the freedom to organize your learning according to your wishes, your time and your constraints. All of our offers are adjustable and à la carte.
"Start remotely, continue in immersion."
Why is this an interesting solution? Because whether it is from a distance or in immersion, the teaching is the same, with the same teachers and the same pedagogical tools. You benefit from perfect pedagogical consistency throughout your course. There is no break between your online sessions and your immersion sessions. Even better : when you come to France, in Montpellier, you will be used to our teaching and this will allow you to optimize your stay, both in terms of learning and in terms of all that you will be able to do once you are there: discovery of the French culture, visits to museums, exhibition sites, sports, fun activities or simply "lazing around". How are these offers organized?
Our hybrid offers include:
a package of private lessons (distance and/or face-to-face)
group French courses in international classes (in immersion)
unlimited access to our e-Learning platform.
And you can enjoy all this over a period of time that you define yourself.
You choose the duration of your hybrid formula:
You choose when you want to take private lessons, from a distance or face-to-face, and when you want to take advantage of your immersion stay. It is you and you alone who decide the pace of your French learning, whatever the type of course (individual distance learning, group courses in international class immersion, etc). Subtitle: "French learning based on a logic of before, during and after immersion" The course / configuration ? You can configure your training yourself, whether it is the rhythm or the intensity. You also have the freedom to program and adjust the different phases of your training whenever you want and this without influencing the price.
"The logic of our hybrid offers is based on before, during and after immersion."
Learning French before immersion:
Placement test: at the very beginning of the experience, you start with a videoconference interview with one of our certified teachers to accurately assess your oral level. This test is complemented by a written test in order to get a complete picture of your level. Unlimited access to our e-Learning platform and private tutoring from a distance: you will have access to our e-Learning platform and will be able to follow private tutoring from a distance. This will allow you to get acquainted with our tools, our pedagogy, our way of teaching and also to get used to your teachers. Personalized follow-up: You will also benefit from personalized coaching during your learning process on the platform.
Learning French during immersion:
Face-to-face courses: you can choose to follow either our standard or intensive courses. You will be placed in an international group of your level. Classes take place every week from Monday to Friday, in classes with an average of 8 students (10 maximum). You can discover here our pedagogical methodology for learning French. Access to our pedagogical tools: upon your arrival, our team will give you a logbook, exclusively designed for learning French and discovering Montpellier. You can also benefit from tutoring sessions if you feel the need for them. Take advantage of a varied program of activities: Montpellier has many surprises in store for you, and LSF offers a varied program of activities to help you discover the city and its region. And for information, you can also decide to come to our French language school based in Annecy in the Alps. You will benefit from the same teaching methods, the same tools and you will discover another region of France and another culture.
Learning French after immersion:
You can continue your training using the private lessons, if you have any left, while keeping access to the platform. This gives you the enormous advantage of continuing to progress and to do so at your own pace. Thus, you keep a link with the practice of French. Come and discover our hybrid formulas for learning French in detail and do not hesitate to contact us for any questions you may have.