Today we share with you an interview dedicated to one of our main objectives: to make your stay one to remember! Léa works at the reception desk of the school, she shares her passion for her job as well as LSF's commitment to make your stay unforgettable ! Enjoy your reading!
1. Can you introduce yourself? What is your background? What are your passions?
My name is Léa and I am responsible for the reception and the activities at LSF. Before coming to LSF I studied French as a Foreign Language and then taught French for two years in a university in Colombia. I am passionate about travelling and gastronomy, but generally speaking I would say that I am curious about everything.
2. When did you come to LSF and what is your role?
I started at LSF as a trainee in 2018 in the activities department. After 8 months of apprenticeship, I then joined the team permanently. My role at LSF is to make sure the students feel good, to create cohesion between them and to offer them a variety of activities. I also manage the social networks and the school blog.
3. What do you like best about your work?
It's hard to choose but I would say that talking with the students is one of the things I enjoy the most! Many of them are a bit shy or fearful on their first day, I like talking to them a lot, knowing where they come from, what their passions are etc. Having travelled a lot, I know that arriving in a city where you don't know anyone can be intimidating. So as soon as they arrive, I introduce them to former students and, depending on their tastes, I also recommend outings that they might enjoy. I always make sure that they know that I am there for them if they need anything. The aim is to really make sure they have an unforgettable stay and leave with happy memories in their heads!
"The goal is to really make sure they have an unforgettable stay and leave with happy memories in their heads! "

4. What types of activities are organised?
Each week we offer a different programme. Some activities are free and some are not. I try to organise a varied programme for all budgets and tastes! Gastronomy, arts, sports, among many other themes. We also organise excursions to cities close to Montpellier, in the company of Jérémie, our specialist in the region: students discover the history of these cities. The activities are also an opportunity to create cohesion between all the students of the school. Many of them met during an activity at LSF and became friends for life.
5. With the pandemic, are there still things to do at LSF?
Yes, our activity programme has adapted to the current conditions but we continue to offer activities to our students. On arrival, they take part in a guided tour of the city and they also have the opportunity to go on numerous excursions. We also offer free workshops where they can discover the French language and culture. Our programme is of course limited at the moment, but we organise a maximum of activities so that they can enjoy their stay, always in respect of the barrier gestures and current regulations.
6. Is there an anecdote you would like to tell us about ?
There are so many! At LSF our activities have led to friendships that continue even after the students' stay is over, and sometimes we even have … weddings! Better than anecdotes, here are some pictures of our students who met at LSF ! Sometimes a photo is the best testimony !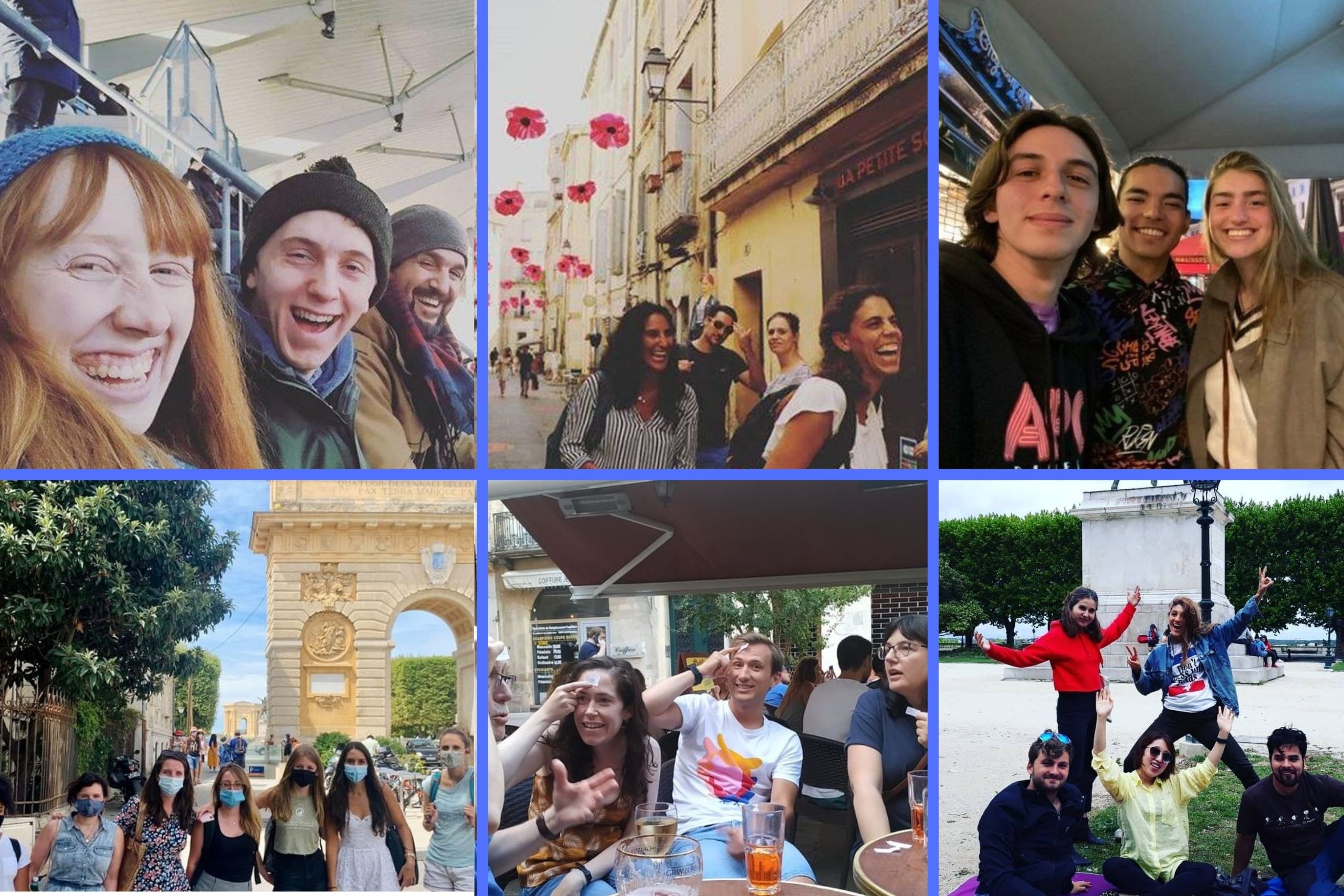 7. Any advice to give students who would like to come and take a language stay at LSF?
Go for it! Don't be afraid! A language stay may seem intimidating at first, especially in the current situation, but it is a wonderful and unforgettable experience! Montpellier is an incredible city and at LSF we do everything we can to make sure you have the best possible experience.