Since the arrival of the pandemic, LSF Montpellier has worked tirelessly to offer its learners the opportunity to continue learning French in the best possible conditions. Every week, we ask our students to tell us what they think about our teaching. Here are the results of these questionnaires to which more than 250 students of our online French courses have replied.
A pedagogical team dedicated to online French courses
We are proud to present you with the latest statistics on our online course programme Keep Learning French. For the past 6 months, the world has been going through a crisis that is changing the way we learn French as a foreign language and consequently the way in which we teach French. Thanks to its expertise and a team of professionals dedicated to teaching French, LSF Montpellier has been able to adapt quickly to a difficult and constantly evolving context. From the very beginning of the health crisis, we have offered an online course solution to our students so as to ensure the continuity of our teaching activity.
The quality of our online French courses is our top priority
Since its launch last March, our Keep Learning French programme has brought together nearly 750 students of more than 40 different nationalities, all eager to learn French. For LSF, the quality and satisfaction of our students have always been the keywords of our activity, so we have always sought feedback from our students, from the very beginning of our programme. Today we share these statistics with you.  Find all the information about our French courses online.
What do our students say about our online French courses?
General satisfaction. When asked "Were you satisfied with our online courses ?", 95% of our students admit to being delighted with our programme. We are very proud of this result, which is the crowning achievement of all the work put in place during several years and which aims to offer the same quality of French teaching online and in immersion at our school.
The organisation of our online French courses
For our French courses to run as smoothly as possible, we need a perfect organisation. Here is what our students think of the general organisation : 98.5% consider that our online French courses are very well organised.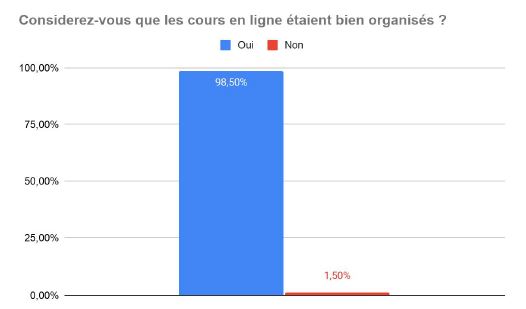 Exactly how are our online courses organised?

Description of a typical 3-hour session
| | | |
| --- | --- | --- |
| 9h15 – 10h15 | 10h15 – 11h15 | 11h30 – 12h30 |
| Group lessons by videoconference with your teacher. | Programme of the day and instructions. Lessons and exercises on the e-Learning platform + teacher coaching | Group lessons by videoconference with your teacher. |
We have sessions in the morning and also in the afternoon. This allows us to adapt to the constraints of time difference. Find all the information about our online group courses: 
To learn French properly, you have to feel good!
The conviviality and atmosphere of our French courses.
At LSF Montpellier, we have always believed that in order to learn properly, you have to feel good with yourself. Therefore we greatly favour conviviality, which allows everyone to feel good and to take full advantage of the French learning potential that we offer. To the question "Did you find the class friendly ?" 97.90% answered positively.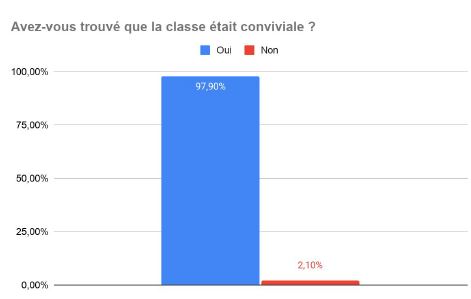 Oh, and one last point. There are several aspects that help provide this atmosphere. Benevolence is the first. Classes are conducted with the utmost respect. Secondly, the mix of more than 50 nationalities, all of whom come together with a common goal, which is to learn our beautiful French language. And then there is the numbers. Our classes have an average of 6 students, so everyone has time to express themselves and the teacher can take care of each student individually.

The most important thing remains the quality of teaching and the competence of our French teachers.
The quality of teaching and French teachers.
At LSF Montpellier we carefully select our teachers. Our teaching team is composed of teachers who are all specialised in teaching French as a foreign language. We are convinced that an experienced team is one of the keys to quality teaching. Our students have all been satisfied with their teachers.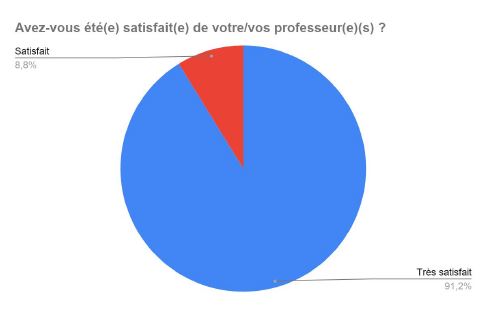 If you want our pedagogical team click here. 

Utilisation de notre plateforme e-learning : satisfaction
.
This is our strength! Our e-Learning platform, which is also used for face-to-face classes. Our online courses are structured around three main areas:
video-conferencing courses
a personalised follow-up by our teachers
unlimited access to our e-learning platform.
Our e-learning platform allows you to learn French or to deepen your knowledge by working independently on these different skills: grammar lessons and exercises, vocabulary, conjugation, written production, written and oral comprehension, phonetics. It covers the 6 levels of the CEFR (from level A1 to level C1/C2). Our students have access to our catalogue of more than 400 à la carte training modules. When asked about their use of the platform, the vast majority of our students confirm that they use it both in class and independently.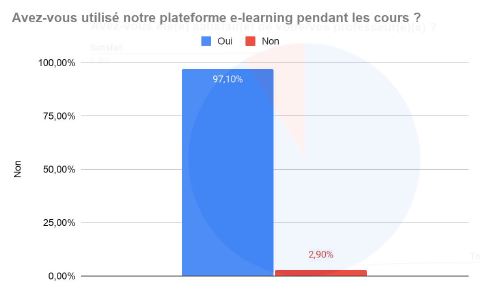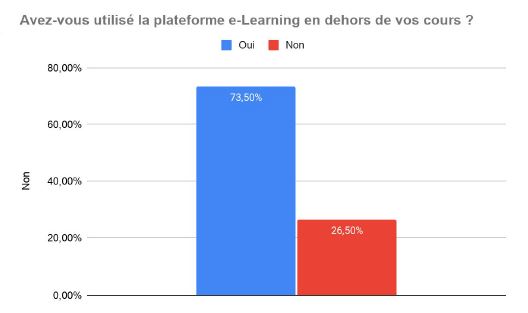 The platform is used during the lessons but also after the lessons.  For more information about our e-learning platform, click here.
Having an e-Learning platform for learning French as a foreign language is good, having a good platform is even better.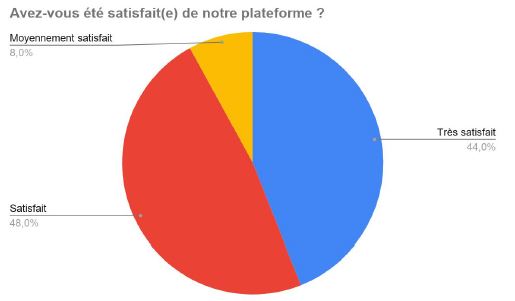 The figures speak for themselves. 92% of our students say they are satisfied with our e-learning platform. 

Extension of courses.
It is important to point out that more than 30% of the learners who take courses with us decide to extend their sessions. Not because they haven't learnt enough, but because they feel good with us. And you know what, we have more than 20% of our students returning each year. They love us !!!
"Are you ready to recommend us to your friends and family members ?"
That's the killer question because you never know how your learners will answer…. Well, 97% of them support us and are ready to recommend us. "Champagne", as we say in France!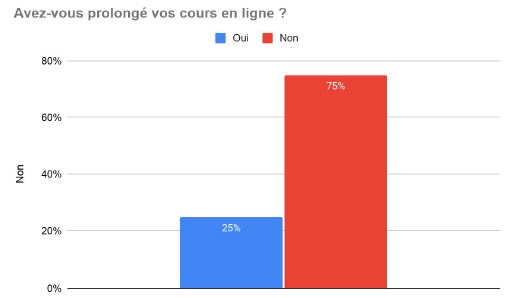 Overall, these statistics are proof that despite an unpleasant context, our desire to teach French combined with our expertise enables us to satisfy a wide public. Finally, our teams are mobilised every day to create solutions that adapt to the needs of our students and to make the teaching of French a unique experience.
We would like to thank all the students who place their trust in us for the noble task of teaching French! 
Take care of yourself! 
The LSF team